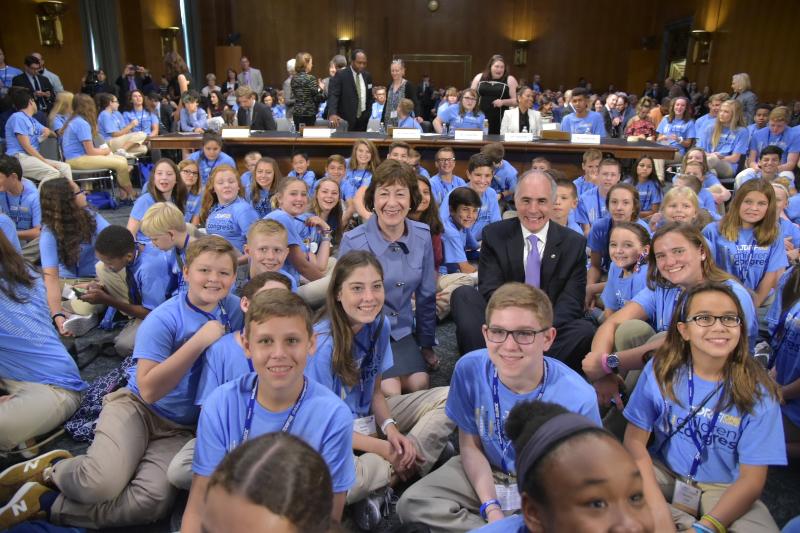 Click HERE to read Senator Collins' opening statement
Click HERE to read Seantor Casey's opening statement
Washington, D.C.—U.S. Senators Susan Collins (R-ME) and Bob Casey (D-PA), the Chairman and Ranking Member of the Senate Aging Committee, convened a hearing today titled, "Progress Toward a Cure for Type I Diabetes: Research and the Artificial Pancreas." Senator Collins is the founder and co-chair of the Senate Diabetes Caucus.
"Since I started the Senate Diabetes Caucus, funding for diabetes research has more than tripled from $319 million in 1997 to more than a billion dollars this year," Senator Collins said. "As a result, we have seen encouraging developments in the management, treatment, and potential cures for Type 1 diabetes. With continuation of this investment, we can see a future in which the children here today can look forward to a better and brighter tomorrow."
"Today, 165 youth delegates from across the country and globe have demonstrated the importance of supporting research to find a cure for type 1 diabetes," Senator Casey said. "It is critical that Congress continue to fund the Special Diabetes Program so that a cure for type 1 diabetes will be discovered during their lifetime."
Diabetes is a devastating, lifelong disease that affects people of every age, race, and nationality. More than 30 million Americans – 9.4 percent of the population – suffer from diabetes. About five percent of all diabetes cases are Type 1. Type 1 diabetes (T1D), sometimes referred to as juvenile diabetes, usually starts in childhood or adolescence and renders individuals insulin-dependent for life. Individuals with Type 1 diabetes must be injected daily with insulin (often multiple times) - or receive infusions of insulin from an insulin pump - to survive.
Today's hearing focused on the impact of T1D at all ages and stages of the disease, looking at recent advances and in research, particularly as it relates to the artificial pancreas systems. It also highlighted the importance of the Special Diabetes Program and the need to renew the program to continue momentum in Type 1 research for new treatments, therapies, and ultimately a cure.
Featuring testimony from the JDRF Children's Congress delegates, more than 160 delegates and their guardians attended the hearing. The Children's Congress delegates were selected from nearly 1,300 entries in a national competition on the basis of a letter that they wrote stating why a cure for Type 1 diabetes is important to them. International delegates representing Australia, Canada, Denmark, Israel, the Netherlands, and the United Kingdom also attended.
Witnesses for this hearing included:
Paul Sparks, Actor, New York, NY
Griffin Rodgers, M.D., M.A.C.P., Director of the National Institute of Diabetes and Digestive and Kidney Diseases (NIDDK) at the National Institutes of Health (NIH), Bethesda, Maryland
Charlie Albair, Age 10, Diagnosed with Type 1 diabetes at age 6, Gray, Maine
Lorynn Watt, Age 17, Diagnosed with Type 1 diabetes at age 9, Stroudsburg, Pennsylvania
Angie Platt, Chair Mom of the JDRF 2017 Children's Congress, accompanied by her son Jonathan Platt, age 14, diagnosed with Type 1 diabetes at age 6, Encino, California
Click HERE to read their testimonies.
###