Chairman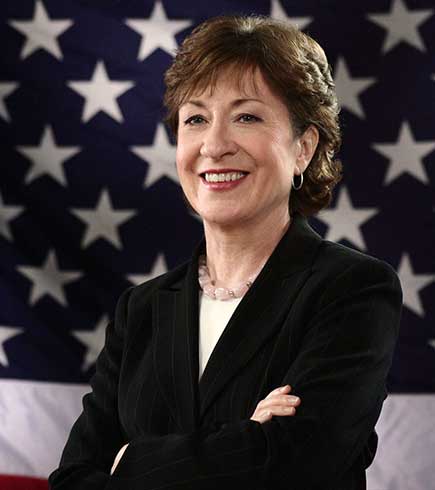 Susan M. Collins was first elected to represent Maine in the United States Senate in 1996.
Known for her work in facilitating bipartisan compromise on important issues, Senator Collins is a key leader in the United States Congress. Her record shows significant legislative accomplishments in critical areas, including homeland security, national defense, disaster response, education, business development and health care.
On July 12, 2012, Senator Collins cast her 5,000th consecutive roll call vote. She has never missed a roll call vote during her entire time in the U.S. Senate.
Committees
Senator Collins serves on the powerful Senate Appropriations Committee, the Select Committee on Intelligence, and as Chairman of the Special Committee on Aging.
She previously served as the Chairman and Ranking Member of the Homeland Security and Governmental Affairs Committee and served on the Armed Services Committee. Senator Collins was also the first freshman senator to ever lead Permanent Subcommittee on Investigations.
Biography
Susan Margaret Collins was born on December 7, 1952 into an iconic northern Maine family. Her parents, Donald and Patricia, exemplify the deep commitment to public service that characterizes Senator Collins' life and career. Each of her parents has served as Mayor of her hometown of Caribou, and her father served Maine as a State Senator.
Senator Collins' family runs a fifth-generation lumber business, founded by her ancestors in 1844, and operated today by two of her brothers.
In 1975, Senator Collins graduated with magna cum laude honors from St. Lawrence University in Canton, New York, where she was also elected to the Phi Beta Kappa national academic society.
After working for 12 years on the Capitol Hill staff of Maine Senator William Cohen, she joined the cabinet of Maine Governor John McKernan in 1987 as Commissioner of Professional and Financial Regulation. After five years in that post, she then served as New England Administrator of the U.S. Small Business Administration from 1992 to 1993.
In 1994, Senator Collins ran her first campaign for public office. She emerged from an eight-way Republican primary in June 1994 as the first woman in Maine history to win a major-party nomination for governor. She lost that fall's general election, but remained committed to public service.
In December 1994, Senator Collins became the founding executive director of the Center for Family Business at Husson College in Bangor, Maine. She resigned in 1996 to run for the Senate seat being vacated by Senator Cohen. She went on to win both a contested Republican primary and a four-way general election later that year. In 2002, Senator Collins was reelected with 59 percent of the general-election vote. In 2008, Senator Collins was reelected with 61 percent of the vote.
Honors
Senator Collins's dedication and hard work have won praise from her home state newspapers as well as national newspapers from coast to coast.
Upon the conclusion of the 109th Congress, the Portland Press Herald wrote about Senator Collins' accomplishments, "…Collins gets it done. [Senator Collins'] moderation and bipartisan style should keep her winning streak alive."
Following passage of the Collins-Lieberman intelligence reform legislation, the Bangor Daily News wrote, "Senator Collins was tireless in crafting the largest change to the nation's intelligence agencies in a half century. She has served Maine and the nation well in her efforts, and deserves enormous credit for her thoughtful, forceful pursuit of this reform."
The Lewiston Sun Journal wrote, "Her reputation as a moderate and her willingness to work with politicians regardless of their political affiliations make her an effective voice in Washington."
Foster's Daily Democrat wrote, "Mainers should be proud of her work on behalf of her state and the nation."
The Maine Sunday Telegram said, "The Maine senator's ability to stay focused on a goal is one of the reasons she's gained a powerful post."
The Los Angeles Times referred to her as a "champion of good government" in a profile, while The New York Times has said, "Ms. Collins has a long history of taking on the Washington bureaucracy."

Senator Collins has also earned honors from many professional and civic groups. Senator Collins was honored by families who lost loved ones on September 11th for her work authoring the Collins-Lieberman intelligence reform legislation. The American Association of Port Authorities named Senator Collins as "Ports Person of the Year" for her work in helping to secure our nation's ports. In addition, Senator Collins has been named "Guardian of Small Business" by the National Federation of Independent Businesses, "Legislator of the Year" by the American Diabetes Association, and has received honors from other groups ranging from the Veterans of Foreign Wars Association to the National School Boards Association.