WASHINGTON – Today, U.S. Senate Special Committee on Aging Ranking Member Tim Scott (R-S.C.) delivered the following opening remarks at the committee's hearing titled "Improving Care Experiences for People with both Medicare and Medicaid."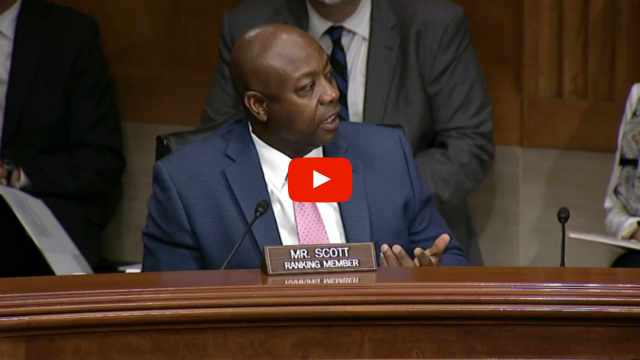 Opening remarks, as delivered:
Thank you, Mr. Chairman, for working together on the PACE Expanded Act. Certainly, it is good for the country to see a bipartisan coalition working on behalf of the country, not on behalf of Democrats or Republicans, but on behalf of Americans.
One of the things I enjoy and appreciate about this committee is that we put seniors first, and not red ones or blue ones, Black ones or white ones, just seniors. And that should be a mission for our nation and for all of those us in elected office certainly, to follow the example that you are leading by. So I really appreciate your work on the PACE Expanded Act.
And the one-stop-shop concept is something that is really important when you have so many layers of complexity in your life as you age. If we can eliminate any of it, it helps all of it become more digestible and easier to handle for the seniors, so thank you very much for your hard work on that issue.
One of the reasons why this legislation is so important is because we have nearly 12 million Americans and 150,000 South Carolinians who are dual eligible. They are eligible for both Medicaid and Medicare. And if you can imagine, as you described, seniors with chronic conditions [have] multiple caregivers, multiple places to go. And if you think about Medicare, [it is] a national program run from the federal government, [while] Medicaid [is] essentially a federal program but run from the state government. And so getting those two to work together is not as easy as it should be. Anything that we can do in the direction of making that happen is going to be in the best interest of the seniors across this nation and certainly the seniors in South Carolina that I know and love so much.
I will say that the Biden administration needs to consistently and continuously [work] on making sure that those agencies that serve our seniors, like the Social Security agency, [are] open.
I am thankful to see that, after 15 of my colleagues and I wrote a letter to President Biden asking for field offices to reopen, that we're at least seeing that move in the direction of telework for those agencies. I think it's really important … [that] our seniors have the place to go, whether virtually or in-person, when the pandemic subsides, for them to find the help they need from the agencies that they desperately want it [from].
One of the focuses we have during this hearing, of course, is trying to figure out this jigsaw puzzle for the dual eligibles. And I'll say that the issues are quite challenging in many ways. And as opposed to thinking about how to explain it, I just thought I would use examples of two folks who are dual eligible in South Carolina, who have benefited from having caregivers and [case] managers who understand and appreciate the complexity of the situation.
We have in South Carolina a program known as Healthy Connections Prime, that allows for three providers — Molina, Centene, and AmeriHealth — to serve about 15,000 people over 44 counties, to help that dual eligible concept become a little easier.
Since the program started in 2015, we have seen improvements throughout the state.
One member of the program was living in his car, homeless. His care manager noticed the signs that something was not going well. The care manager educated the young man about the plan benefits that assisted him and helped him find glasses, a place to stay, hearing aids, and dental work.
Another Molina member from Florence, South Carolina, had been gradually declining over the past several months. His daughter, who also serves as his caregiver, noticed he was having more and more difficulty even with his walker and needed more support. His care coordinator worked with his daughter and the gentleman's doctor on the needs, and soon thereafter, a wheelchair was ordered, covered, and delivered. The member and the daughter reported that they were relieved and felt much safer at home, and they were able to get their appointments scheduled because of the support being provided.
To help states further improve coverage, I have introduced legislation to provide further assistance to state Medicaid agencies to help integrate coverage. It creates a $100 million grant for states to improve care coordination for their dually eligible population.
States can use the funds to hire personnel that have experience with the Medicare program or train existing personnel or help beneficiaries with the enrollment process.
Initial studies have shown that integrated care improves health outcomes such as decreased rates of hospitalization and readmissions.
I look forward to hearing from our witnesses about what else we can do as Congressmembers, senators, to improve the lives of our dual eligible population.
###